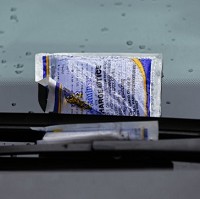 Nearly three in four motorists have successfully appealed parking fines in the capital, new statistics have revealed.
The Freight Transport Association (FTA) analysed data from 32,633 such fines across 15 firms, over a year-long timeframe.
The association's PCN Administration Service's officials won 72% of appeals for its members.
The FTA's survey also explored topics including CCTV and the most likely places to receive parking fines.
The findings come only months after a separate poll which found that 62% of drivers feel confused over the country's parking laws . The British Parking Association's (BPA) study also found o ver 40% of motorists owned up to parking within spaces which were not theirs to park in, such as disabled or ambulance boys.
There is no greater hotspots for PCNs being issued than the high streets, the new London research found. Drivers were more likely to get one in Bromley than anywhere else.
Well over a third of notices (36%) were handed out to those stopping "where prohibited", such as on a clearway or red route - the most common reason. Then came the 33% issued for drivers loading or parking where special restrictions were applicable.
The FTA's London policy head Natalie Chapman said the study findings demonstrate how beneficial its PCN admin service is to its members.
She said that the association's expertise and experience can deliver "huge savings" when it comes to parking fine outlay. It can also reduce their admin costs. The service helps operators administer, challenge and record any such notices issued to them.
Ms Chapman said that unloading and loading are exemptions to on-road restriction laws. She said these are permissible on double or single lines for 40 minutes at most.
Many operators are winning their appeals because tickets are frequently issued incorrectly, Ms Chapman said. This can sometimes be due to lack of training among parking employees who fail to realise what is and is not allowed.
The Traffic Management Act's changes have empowered local councils with fresh responsibilities to manage and enforce parking.
Copyright Press Association 2015