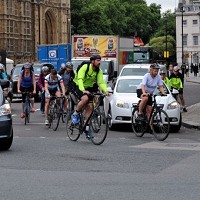 Government investment in cycling should increase several times over, according to most of the 11,000 people questioned in a new survey.
The Sustrans group says three out of four adults think cyclists should have more state cash spent on them.
It claims the typical person wants the amount of cash earmarked for bikers to increase from the current annual £4 per adult to £26.
Its Bike Life Survey also shows that even 71% of non-cycling respondents want a bike funding hike. This proportion increases to 87% with regular cyclists.
New biking initiatives are springing up all over the country, such as the new cycle-friendly junction on London's CS2 cycle superhighway . But Sustrans officials say the authorities are not going far enough.
The poll comes the year before Government investment sums for England's new Cycling and Walking Investment Strategy are published.
The Department for Transport (DfT) counters that Sustrans' £4 a year figure would have been correct five years ago, but that about £6 per English adult is spent now. It says this number rises to more than £10 in London, Newcastle, Oxford, Birmingham, Leeds and other cities in the Cycling City Ambition scheme, which encourages urban bike riding.
Newcastle residents believe their cycling safety is better than anywhere else, but only a meagre 38% rate it "very good" or "good".
Greater Manchester (26%) and Birmingham (27%) are less confident about their cycling safety.
Jason Torrance, policy director of Sustrans, says the Cycling and Walking Investment Strategy could guarantee long-term funding of active transport if it is sufficiently "ambitious".
He says the public have sent a direct message to the Government that they want to increase their cycling habits but are being deterred due to safety fears.
Mr Torrance urged ministers to narrow the gulf between what the people want and what they currently get. He says it makes sense, especially since billions are lost in the UK economy due to sedentary lifestyles, diminishing air quality and traffic jams.
Copyright Press Association 2015