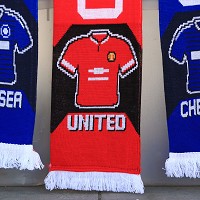 Motorists forked out £2 million on the latest personalised number plates within 24 hours of them going on sale.
Figures from the Driver and Vehicle Licensing Agency (DVLA) show a total of 3,576 registrations were sold on the first day, with football fans and pet lovers among the buyers.
The CH16 SEA and MA16 UTD registrations fetched £399 each, presumably to supporters of Chelsea and Manchester United.
CB16 CAT sold for £799, most likely to a feline fanatic, while a dog lover appears to have snapped up BB16 DOG for £599.
A massive £1 million was spent in the opening 20 minutes of last week's sale, according to the DVLA.
JA16 UAR, believed to be for a Jaguar, was the first registration to go. It sold for a cool £1,299.
Drivers will only be able to put the "16" number plates on to a brand-new vehicle from March 1.
Proceeds from the sale and auction of personalised registrations are passed to the Treasury. The DVLA raised £87 million in the last financial year, with people around the world interested in finding the perfect plate.
Copyright Press Association 2015. Motoring News articles do not reflect the RAC's views unless clearly stated.