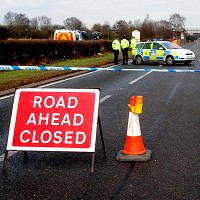 Derbyshire has seen the biggest increase in the number of people killed or seriously injured on the roads, according to the Institute of Advanced Motorists (IAM).
The road safety charity has published a breakdown of road casualty figures for each police force area in England and Wales, with only 14 out of 43 seeing a reduction in serious collisions last year compared with 2013.
A total of 28 forces experienced an increase, but Derbyshire was the only police area to see a rise of more than 30%. The number of serious or fatal collisions rose by 38% from 378 to 522.
Three other areas saw an increase of more than 20% - Leicestershire, Surrey and Wiltshire.
At the other end of the scale, Suffolk had the biggest reduction in serious collisions at 17%, according to the IAM.
The only other areas achieving a double-digit reduction were Durham and Gwent, at 14%. Cambridgeshire was the only area that remained unchanged.
Official 2014 figures show there were 1,775 road deaths in 2014, a rise of 4% compared with 2013.
The number of people killed or seriously injured increased by 5% to 24,582. There were 194,477 casualties of all severities, a rise of 6% - the first increase in overall casualties in 18 years.
RAC spokesman Simon Williams said: "It's alarming to see that Derbyshire in particular has seen the biggest rise in road fatalities and serious injuries with a 38% increase from 2013 to 2014. With only 14 out of 43 police forces achieving any reduction on their 2013 figures, these statistics can only be seen as disappointing for road safety professionals and the general public alike. It does appear that the days of annual reductions in road casualties now appear to be well and truly over.
"National efforts to tackle road safety appear to be stalling, after decades of progress in reducing the numbers killed or injured on the roads. A new national strategy on road safety cannot come soon enough. These figures serve to highlight just how pressing the need is for road safety to be given the political focus it clearly so desperately needs.
"According to this year's RAC Report on Motoring , 62% of motorists think there is not enough police presence on the roads to enforce driving laws. An increase in the number of traffic police may be unrealistic given the fiscal challenges currently facing the Government, but the RAC is calling on those in power to halt the decline in the number of traffic police officers. These latest Institute of Advanced Motorists' (IAM) statistics emphasise the need to ensure road safety remains high on the agenda so that we can return to a sustained downward trend and make roads safer."
The IAM has a number of key objectives it wants the Government to consider, including a reintroduction of road safety targets and a greater focus on driver and rider quality.
It is also calling for measures to improve safety and education for pedestrians to reduce the number of fatalities. It believes cars should be designed to protect people on the outside as well as inside, and wants better pedestrian facilities to segregate traffic.
Copyright Press Association 2015