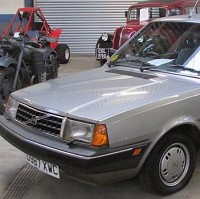 A near-new Volvo 340 is set to go on sale next month, having only clocked up 132 miles since it rolled off the production line 27 years ago.
The car was bought brand new from a dealership in Lancaster but was barely used after the driver had a run-in with a bollard at a garden centre, grazing the driver's side wing, a few weeks after purchase.
The elderly owner then put the car into a garage where it stayed until the beginning of March, when it was rediscovered and listed for auction.
The auction house said that the Volvo has even retained its distinctive 'new car smell'.
"Plenty of people claim to offer a 'time warp' classic but in the case of this Volvo 340 the term was never more fitting," Rob George, Anglia Car Auctions said.
The car will go up for auction alongside a number of other classic cars on 5 April.
Copyright Press Association 2014