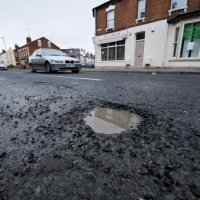 Drivers will have to negotiate nearly one million fewer potholes in the year ahead, it is hoped, following the launch of a £250 million fund to combat the problem.
The RAC has welcomed the move, but says that prevention is better than cure.
The Government announced on Thursday (April 7) that it will give local councils a total of £50 million in 2016/17 to repair 943,000 potholes.
The Pothole Action Fund will see a similar sum handed out over the next four years after that.
Patrick McLoughlin, the Transport Secretary, called the pothole problem a "blight" and says people will notice improved journeys between now and 2020/21.
Earlier this year the RAC reported that pothole-related call-outs had risen 25% between 2014 and 2015 to 25,487.
Ministers are spending an unprecedented £6.1 billion on maintaining local roads over the five years ahead.
David Bizley, the chief engineer for the RAC, said: "While any cash to fix potholes is welcome, we will not get on top of the problem until there is a recognition that potholes arise because of a lack of preventative maintenance.
"Until we start talking about how many potholes we have prevented rather than how many we have filled, we are doomed to a local road network that is the weak link in the transport infrastructure.
"It's time for the Government to recognise that local roads are a vital part of the transport infrastructure which should be brought into the scope of the Infrastructure Commission so that they are rightly treated as a long-term strategic asset.
"While the Government's Road Investment Strategy is ensuring the future 'fitness-for-purpose' of the strategic road network in England there is a very real danger that local roads will suffer ongoing decline through insufficient investment and no long-term strategy to improve them.
"What use would it be having excellent motorways, major roads, railways, ports and airports if, when getting to or from them, you are faced with pothole-ridden, crumbling local roads where, of course, all journeys start and finish."
Copyright Press Association 2016. Motoring News articles do not reflect the RAC's views unless clearly stated.