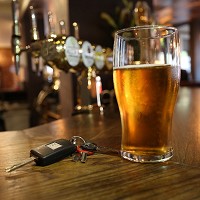 Around 240 people were killed in road traffic accidents in 2014 where at least one driver was over the drink-drive limit, according to provisional figures.
The Department for Transport (DfT) estimates between 210 and 270 people were killed in such accidents in Britain during the 12-month period, with a central estimate of 240.
It is unchanged from 2013, following a period of stability since 2010, representing 14% of all deaths in reported road accidents.
"The numbers of people killed as a result of drink-drive accidents has now remained stubbornly high for the past five years," says RAC chief engineer David Bizley. "Despite drink-driving being seen as socially unacceptable by the vast majority of motorists, this suggests there is a 'hard core' of people that continue to flout the law, putting both their lives and the lives of others at serious risk."
The DfT estimate is based on reports for 44% of motorists who were killed in road traffic accidents in 2014.
In England and Wales, the legal alcohol limit for driving is 80mg in every 100ml of blood. It is 50mg in Scotland.
Mr Bizley adds: "The British Road Safety Statement, published in December, stated that the UK Government is 'targeting high risk drink-drive offenders using a range of tools, including technological and educational solutions.' We hope this commitment, combined with the fatality figures published today, act as a catalyst for action targeted at challenging the dangerous actions of this minority of drivers."
The provisional figures suggest a decrease in non-fatal casualties in comparison with 2013, which would represent the lowest number on record if correct. The final figure is due to be published in the summer.
They also suggest the total number of drink drive accidents of all severities fell by 1% to 5,620 in 2014. Again if correct, it would represent the lowest number of drink drive accidents.
Copyright Press Association 2016. Motoring News articles do not reflect the RAC's views unless clearly stated.