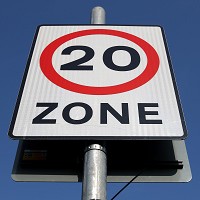 The number of people killed or injured in 20mph zones rose by almost a quarter last year, official figures have revealed.
More than 2,200 deaths or injuries occurred in 2011 on roads with a speed limit of 20mph, an increase of 24% compared to 2010.
However, casualties in 30mph zones fell by 1%, totalling 125,494, according to data released by the Department for Transport.
In a move to try and improve road safety, local councils now have the authority to set their own 20mph zones.
Drivers should also ensure they are covered in the event of an accident by taking out comprehensive car insurance .
Local transport minister Norman Baker pointed to research in the British Medical Journal that found that reducing the speed limit to 20mph can help reduce casualties on the roads.
He said: "That is why we believe 20mph speed limits are useful in certain residential areas and support their introduction where it can be shown that they benefit road safety and quality of life.
"It's vital that speed limits are suitable for local conditions and councils are best placed to determine what these limits are, based on local knowledge and the views of the community."
Copyright Press Association 2012