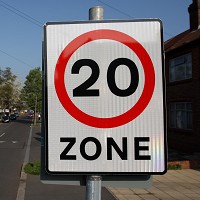 Road accidents would fall and injuries would be less severe if 20mph zones were introduced in built-up areas, according to a public health expert in Northern Ireland.
Teresa Keating, from the Institute of Public Health in Ireland - which also covers the Republic - says recent research shows the positive impact of 20mph speed limits.
Children, older people and those in deprived communities would be the greatest beneficiaries as they are the most likely to be involved in road accidents, Ms Keating says.
Limiting traffic to 20mph also improves quality of life with environmental advantages, she says, making built-up areas a safer environment for pedestrians and cyclists, boosting physical activity and improving health.
There are already 500 such zones in Northern Ireland, many of which are in housing estates and smaller communities which have welcomed the measure, Ms Keating says.
This could be extended to the whole of Belfast city centre under plans published by the Department for Regional Development at Stormont.
An even lower limit of 30kph (18mph) has come into force in the Republic of Ireland, although it is too early to draw conclusions from this scheme.
Germany, Sweden and the Netherlands have operated 30kph limits for 50 years.
Copyright Press Association 2014