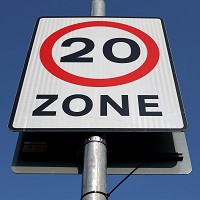 Local authorities are to be handed new powers to cut speed limits to 20mph to improve road safety under government proposals, the Department for Transport has announced.
Ministers said that councils will also be given powers to introduce variable speed limits outside schools and to reduce the speed limit from 60mph on country roads with high accident rates.
These new limits would be as enforceable as current restrictions and breaking them could result in fines and penalty points, and possibly causecar insurance premiums to increase.
The new guidance, which is currently out for consultation, is designed to give local authorities more power over speed limits and to encourage them to introduce 20mph zones in areas where it could improve road safety.
Currently there are approximately 2,000 20mph schemes in England and research shows that they can reduce collisions by 60%.
Road Safety Minister Mike Penning, said: "Road safety is a top priority and the guidance will help councils make evidence based decisions to introduce local speed limits that reflect the needs of all road users."
The final guidance should be published by the end of the year and will not include any increases to the national speed limits of 60mph on single carriageway roads and 70mph on dual carriageways and motorways.
Copyright Press Association 2012