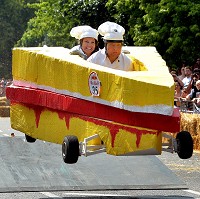 One of Elvis Presley's blue suede shoes was among a host of unusual designs for vehicles taking part in the Red Bull Soapbox Race.
An asparagus, a loaf of bread and an oversized royal baby carriage were also among 70 soapboxes watched by 20,000 spectators at London's Alexandra Palace on Sunday.
There were cheers as one driver wearing a Boris Johnson mask ripped off his trousers to reveal a pair of Union Jack boxer shorts before setting off on the 420-metre course in a London Tube-inspired soapbox powered only by the force of gravity.
Teams were scored on speed, creativity and showmanship, with Red Bull's Formula One team boss Christian Horner among the judges on a sweltering day in the capital.
Some crashed into straw barriers after losing control on the ramps but there was no call for breakdown cover as most made it to the finish line smoothly and the event was won by Newcastle-based Team Spit-Phya in a soapbox inspired by Great British land speed record attempts.
Winning team captain Mark Wells.explained how his crew were inspired by the old Great British land speed record racers Donald Campbell and John Cobb.
Copyright Press Association 2013