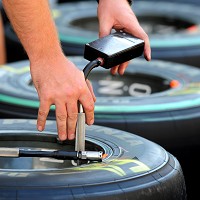 Millions of cars failed an MoT test last year because of the condition of their tyres, figures reveal.
The data, secured through a Freedom of Information request, raises concerns that motorists with illegal tyres are putting their lives at risk, as well as the safety of other road users.
The fears intensify at this time of year, as the approach of the darker days of winter brings with it the prospect of more dangerous driving conditions - snow, ice and rain.
Drivers need to leave much larger gaps between their car and the vehicle in front than the usually-recommended distance, in order to brake safely.
But even larger gaps might not be enough to prevent an accident if tyres are not at the right pressure or do not have an adequate tread - at least 1.6mm. Poor tyres will not grip when driving on snow and ice.
Data supplied by the Driver & Vehicle Standards Agency shows that some 2.2 million cars failed the annual MoT due to their tyres in 2013, a figure which one safety organisation says "beggars belief".
TyreSafe chairman Stuart Jackson says it is vital that the condition of tyres is checked and that there is no excuse for failing to do so.
He is urging people to check a list of garages and tyre dealers that are offering free safety checks as part of Tyre Safety Month .
Copyright Press Association 2014