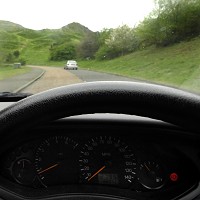 A motorist who snapped up a second-hand Volvo in 2008 has done more than safely get between A and B - his car has almost reached the million-kilometre (621,000 miles) mark.
Simon Marshall, 49, from Sandhurst in Berkshire paid £5,500 for a 2004-plate Volvo V70 D5 SE six years ago when it already had 170,000 miles (273,000 km) on the clock.
Since then, he has clocked up more than 415,000 miles (667,000 km) without even a hint of mechanical failure - or a single use of breakdown cover - in the vehicle he lovingly refers to as his "Viking Long Boat".
Despite Mr Marshall having an outlay of around £3,000 on minor repairs, servicing and tyres, the car still boasts its original engine, exhaust, turbo, alternator and all four brake callipers.
Mr Marshall, who described the initial transaction as a "bargain", admits that he never expected to get so many miles out of the vehicle.
A Volvo spokesman said that Mr Marshall's story is "true testament to the durability and quality" of the firm's vehicles.
Copyright Press Association 2014
https://href.li/?http://www.rac.co.uk/breakdowncover/ (breakdown cover)