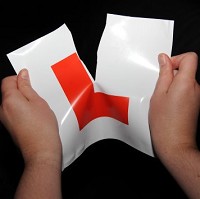 Learner drivers are spending an extra £1 million between them every week just to re-sit their practical test.
That's why a driving school has launched an online perception-enhancing initiative aimed at improving pass rates and safety figures and reducing the money novices spend.
Although learners pay an extra £52 million a year on re-sitting exams, the real cost could be even higher.
If drivers typically take two extra lessons between the initial failure and a re-test, the real cost of failure is more like £88 million - and that's before they buy a car, become road taxed and get a car insurance quote.
RED Driving School says that its 'Get Road REDdy' campaign could reduce the statistic of one in five young motorists having an accident in their first year's driving.
It gives seven hours' free tuition, comprising online learning tools aimed at raising awareness of hazards.
There are scientific reasons why youngsters have more accidents.
The brain's frontal lobe, responsible for sensing danger and assessing risk, is not fully developed for a person's first 25 years.
Practical tests currently cost £62 on weekdays and £75 at weekends. This is on top of the £31 theory exam which has to be passed first.
Copyright Press Association 2013