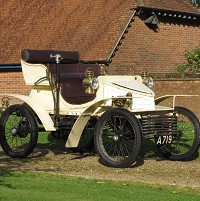 A 1903 Vauxhall, the company's oldest surviving car, is to be auctioned next month and is expected to fetch between £60,000 and £80,000.
The two-seat, 5hp vehicle is set for auction at Bonhams in central London, ahead of the London to Brighton Veteran Car Run.
It is the first time in 108 years the historic car is being offered on the open market, said Tim Schofield, director of the Bonhams UK motor car department.
An extraordinary car calls for extraordinary care and owners may find they are working in a whole different ball park from the average driver when it comes to car insurance premiums.
"We believe it is the oldest surviving Vauxhall, which makes it a very important motor car and a great addition to what is shaping up to be a fantastic auction at our flagship salesroom in early November," said Mr Schofield.
The car was first ordered for the company's managing director Percy Kidner on November 6 1903, and moved on to its next owner the following April, staying with the family since then.
It saw a major refurbishment from 2001-2002 but has hardly been used since.
Also being sold is a 1904 Richard Brasier 16hp Four-Seat Side-Entrance Tonneau, expected to go for £220,000 - £300,000.
Copyright Press Association 2012