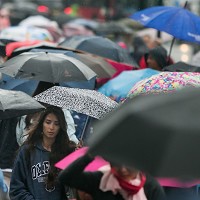 Almost 18,000 pedestrians were injured in accidents involving vehicles in one year alone, according to official statistics.
The Institute of Advanced Motorists (IAM) wants its figures to raise the profile of the task of safeguarding pedestrians. The charity also wants safer cars and better education to teach people about the risks of the road.
The numbers come from 2013 - the latest full year where information is available - and include contributory factors to pedestrian accidents.
Police can record up to six contributory factors from a list of 77 for each incident to explain why they think a crash took place, but the top two give the most obvious reasons for the incident.
Police list 'walkers not looking properly' and 'careless or reckless pedestrians in too much of a hurry' as the main pairing of factors behind pedestrian casualties. This combination accounted for 4,100 injuries - nearly a quarter of the total.
The pairing actually accounts for more than double the next set of contributory factors. Pedestrians not looking properly and pedestrians who cross the road obscured by parked or stationary vehicle comes second with 1,961 - around 11% of the incidents.
The IAM has several ideas on how pedestrians can be better safeguarded in its manifesto. These include adopting road safety into the school national curriculum and an engineering-based programme to make the UK's road safer in the long run.
The manifesto also calls for car manufacturers to pay more attention to pedestrian safety when they design new vehicles.
IAM's CEO Sarah Sillars says pedestrians are the fastest-growing fatality group on Britain's roads. She is calling on all road users to be vigilant towards each other to help minimise road injuries.
The IAM data comes following a Freedom of Information (FOI) request.
Copyright Press Association 2015