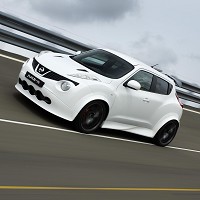 The first production Nissan Juke-R, which can reach 62mph in an estimated three seconds, is being delivered to its owner.
The vehicle, with a minimum price tag of £400,000, and limited to 170mph, was designed in record time with the help of highly-advanced digital processing.
With such a high price tag for this model, some owners may find themselves stretching finances to obtain adequate car insurance premiums.
Its power is greater than the concept and with its body kit redesigned it uses an updated version of the GT-R chassis and engine to distribute 545bhp to all four wheels.
The price for the Juke-R, which is based on the Juke-R Concept, which impressed crowds and major supercar figures in Dubai in January, will go up if customers desire a change in the specification.
Speaking of the reception in Dubai, Darren Cox, brand director of Nissan in Europe, said: "We were receiving offers for the original concept on the street. We couldn't disappoint such dedicated fans, so with three genuine offers on the table we made the commitment to build a limited run of Juke-Rs."
Copyright Press Association 2012