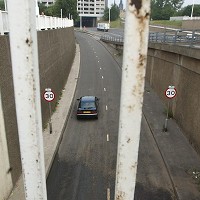 The Department of Transport has approved a £16 million investment in the third and final part of a major scheme to improve the Leeds Inner Relief Road, after the first two parts were completed early.
Essential maintenance to three large highway structures on the A58M Leeds Inner Ring Road (IRR) formed the basis of the improvement scheme. These were at the Woodhouse Tunnel, the New York Road Viaduct and the Lovell Park Road Bridge.
Motorists are already benefitting from the upgrades as work on the viaduct and the bridge has been completed early.
Baroness Kramer, Transport Minister, explained that the scheme will keep traffic in Leeds moving and boost the economy of the city and surrounding area by allowing a vital road to remain open to traffic. This means that a sophisticatedjourney planner is not required to find alternative routes while a long term solution to local traffic issues is drawn up and delivered.
Underlining the importance of transport efficiency to the economy, Baroness Kramer said: "The £16 million we are putting into this project shows that the government is serious about investing in the infrastructure the country needs to drive economic growth both locally and nationally."
Copyright Press Association 2013