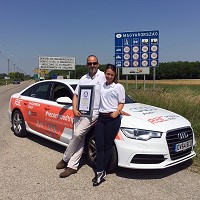 The RAC has helped create car endurance history after co-drivers travelled across a record-breaking 14 different nations on one fuel tank.
In creating the "phenomenal" Guinness World Records entry, the Audi A6 Ultra's computer mileage reading stood at zero - with 16 miles still left to go to cross the final border to Hungary.
Somehow, co-drivers Rebecca Jackson and Andrew Frankel crossed the final border just in time.
The 27-hour, 1,158.9-mile (1,865km) trip began on Tuesday morning and finished on Wednesday lunchtime.
The pair averaged 75.9mpg from their 73-litre tank.
Their journey took in Serbia, Bosnia, Croatia, Slovenia, Italy, Germany, Austria, Liechtenstein, Switzerland, France, Luxembourg, Belgium and the starting point of Holland (Maastricht).
The RAC meticulously selected the route , bypassing the mpg-draining impact of mountainous and inner-city areas, and also equipping Andrew and Rebecca with plenty of RAC fuel-saving tips .
RAC #RecordRoadTrip coordinator Simon Williams said: "The last few miles of the record attempt were nail-biting as the A6 ultra's computer was reading 'zero miles' with 16 miles to go to reach Hungary to make it 14 countries.
"Andrew and Rebecca's achievement in driving the A6 ultra 1,158.9 miles (1,865km) and setting a world record for the RAC and Audi is phenomenal.
"We were very keen to use a standard executive class production car, the like of which is regularly driven through Europe by British holidaymakers every summer, to set a record that will be tough to beat.
"The car was not modified in any way other than being fitted with fuel-efficient, low rolling resistance tyres.
"This really shows how far it's possible to drive in a modern vehicle and that the price of fuel - albeit cheaper on the continent - should not put anyone off exploring Europe by car."
He added: "While Ben and the RAC can't follow all our members through Europe this summer they can protect themselves with our five-star, market-leading European breakdown cover which gives peace of mind that you and your vehicle will be taken care of should something go wrong during your road trip."
Jackson said she had to temper her usual racing driver's instincts to go fast in the interests of economy. Next year she is competing in the Le Mans 24-hour race.
Motoring writer Frankel, who drove at typical speeds of roughly 50mph, believes the record won't be broken for a while as every mile was "eked out" from the Ultra's tank.
Copyright Press Association 2015