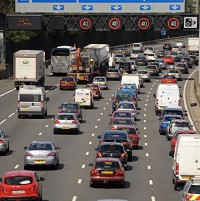 Millions of motorists are continuing to join a mass getaway during the half-term school holidays.
An additional 2 million motorists will join the UK road network on Saturday (November 1) as part of the last opportunity to escape ahead of the Christmas holidays, according to the RAC.
Weather forecasts suggest that drivers should take care, however, with strong winds and rain predicted for much of next week.
The RAC recommends that drivers carry out standard checks before leaving and advises that motorists allow themselves extra time for checks after setting their journey planner to their intended destination. This is because roads will be more congested.
Matt Dallaway, the RAC's roadside operations manager, said: "Drivers need to be careful not to get caught out in what could be tricky road conditions, so they should check their tyre pressures, tread, oil, coolant and screen wash before setting off.
"We would also recommend having a first aid kit, reflective warning sign and a fully-charged mobile phone to hand."
The club also recommends frequent stops on long journeys to beat fatigue, especially on long journeys.
To help plan your journey and keep up to date with traffic conditions, incidents and roadwork, download the RAC App for iPhone or Android .
Copyright Press Association 2014