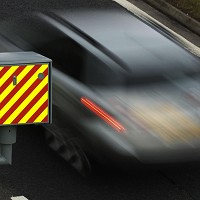 Scandalous speeds of up to 139 mph have been captured on Scotland's roads, police figures show.
According to the Institute of Advanced Motorists (IAM), which obtained the data through a Freedom of Information request, the speed of 139 mph was recorded by a mobile speed camera on the A96 Keith to Huntly Road - which has a speed limit of 60 mph.
Over the past 15 months, some motorists were found to have topped speeds of 129 mph and 127 mph on the 70 mph roads of the A90 Dundee to Aberdeen Road at Waterston Road, Angus, and the A9 Perth to Inverness Road at Moulinearn, Perth and Kinross respectively.
Between April 1, 2013 and June 30, 2014, just one speeding offence was captured on a motorway, with the rest of the top 20 found to be on A roads.
IAM chief executive Simon Best says the fact most of the offences were caught on A roads puts other road users at far "greater risk".
He adds that over-the-limit speeds display a "contempt for the law and for the safety" of other motorists as well as motorcyclists, cyclists and pedestrians.
However, the highest speed in England and Wales was found to be 149 mph on the M25 at Swanley, the Freedom of Information data of 39 police authorities between April last year and May this year found.
Copyright Press Association 2014