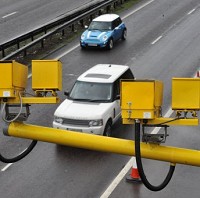 Four drivers in Wales have been caught on camera travelling in excess of 120mph.
The fastest offender filmed last year was doing 136mph, according to the Institute of Advanced Motorists (IAM). This incident happened on the 60mph limit A5 Conwy road linking Ty Nant with Dinmael.
The North Wales Police's cameras filmed the offender breaking the legal ceiling by 76mph. It was among the worst speeding incidents captured by camera throughout the whole of Great Britain in 2014.
Information request
The institute published the findings following a Freedom of Information (FOI) application to four Welsh forces.
It asked each one to reveal the worst five cases of speeding captured on camera last year.
The A5 was also the scene of two of the other 120mph-plus incidents recorded on speed cameras . One (121mph) was in Halton, Wrexham, the other (122mph) on the Conwy stretch linking Ty Nant to Cerrigydrudion.
A 125mph speed - 55mph above the road's legal limit - was also recorded between junctions 35 and 34 of the M4 between Pencoed and Miskin.
Such cases usually involve heavy fines, penalty points and even bans, as well as increased car insurance premiums on offenders' return behind the wheel.
The IAM's Welsh figures come hot on the heels of its Scottish statistics following a similar inquiry. Safety cameras caught nine drivers exceeding 120mph in 2014 with a top speed of 129mph.
A comparable inquiry revealed that five 140mph-plus drivers had been spotted on English roads last year.
Attitudes need changing IAM CEO Sarah Sillars said that the figures show that motorists caught driving at such speeds are not dissuaded by fines or short bans.
She said that attitudes need to change so that drivers realise such speeds put other users in substantial danger. It is key that both riders and motorists get "continuous development", Ms Sillars added.
The institute believes that more visible policing and advanced riding and driving schooling would also help act as an effective deterrent. In addition, this would help reduce the toll of people badly injured or killed on the UK's roads, it said.
Copyright Press Association 2015