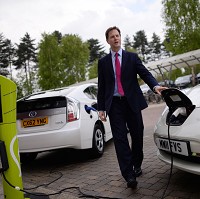 York, Leicester and Dundee are among 12 cities and council areas in the running to receive a share of funding set aside to encourage the use of ultra-low emission vehicles (ULEVs).
The 12 authorities will now bid to be the first Go Ultra Low Cities in the UK and have until the end of August to complete their submissions.
The Office for Low Emission Vehicles and Department for Transport are behind the Go Ultra Low City Scheme, the £35 million initiative to promote the use of environmentally-friendly vehicles.
It is up to the bidding authorities to show how they will set an example for other areas through their use of the technology. The winners will be revealed in the autumn.
Most of the authorities on the shortlist are in England. They are West Yorkshire Combined Authority, West of England, Sheffield City Council, Oxford City Council, Nottingham City Council, North East Combined Authority, Milton Keynes Council, Leicester City Council, Greater London Authority and the City of York Council.
Joining the English authorities in the list are Dundee City Council and the Department for Regional Development of Northern Ireland.
The scheme is an example of how the UK is looking to lead the world in the use of ultra low emission vehicles and improve the quality of air in cities, according to Baroness Kramer, the Minister of State for Transport.
She says the successful cities will show how what they are doing could happen all over Britain and how their ULEV plans can work alongside other schemes they are involved in. They are also likely to be taking other measures to improve air quality.
Copyright Press Association 2015