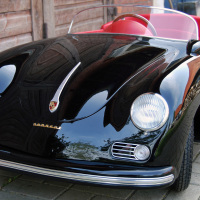 Motorists are being offered the opportunity to get their hands on a brand-new Porsche for less than £12,000.
And would-be buyers even have the option of choosing their own colour scheme for the paintwork and interior leather upholstery.
However, there are a few hitches.
For t he luxury sports car in question is a 1:2.3 scale miniature version of the Porsche 356 Speedster. Drivers will need to be in the pre-teen age group in order to fit inside the vehicle and it certainly has not been built for speed.
Aimed at children aged between six and 12, the 1.76m long Pocket Classics reproduction is powered by an electric motor. The car, which has a reverse gear and two forward ones, has a top speed of 12mph and when fully charged can be driven for around three hours.
Made under licence from Porsche AG, the £11,995 car is built on an aluminium and steel chassis and features a fibreglass body with front and rear gold badges. It also comes with chrome pedals, replica but functionless dashboard instruments and a three-spoke wooden steering wheel.
Copyright Press Association 2016. Motoring News articles do not reflect the RAC's views unless clearly stated.