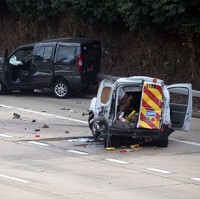 The bill linked to death and serious injury on UK roads is predicted to cost taxpayers £110 billion between now and 2030, according to the Government's road transport safety advisers.
As many as 333,000 people will be killed or seriously injured (KSIs) on British roads in this time.
This is the warning of the Parliamentary Advisory Committee for Transport Safety (Pacts), which says the number is the equivalent of the population of Reading.
But Pacts says there are proven, cost-effective and affordable measures to make the roads safer.
Pacts' £110 billion estimate comes despite forecasting a drop in KSIs and slight injuries by 2030 compared with statistics for 2012.
Deaths will probably fall from 1,754 in 2012 to about 1,000 a year by 2030. Serious injuries are likely to drop from 23,029 in 2012 to around 11,000 in 2030, it forecasts.
Pacts called for work to begin on a new national road safety strategy.
The study was prepared by Kit Mitchell, University College London Emeritus Professor of Transport Studies, and Pacts director Richard Allsop.
The complete study will be published at the UK road safety summit in London on Thursday, 27 March.
RAC technical director David Bizley said: "While road deaths are currently at their lowest ever levels, overall casualty statistics have been a little up and down in recent years after many years of steady decline.
"What's needed now is for the Government to return to setting national targets for reductions in road fatalities and serious accidents. For some reason the current government has been reluctant to set targets, but we know historically this has always proved successful in reducing casualties.
"As a society we must ensure all stakeholders work together to sustain casualty reduction and national targets are a great way of galvanising efforts towards a common goal. This way we can take road casualty numbers to the lowest possible figures.
The RAC, in conjunction with the Department for Transport, has just launched a national child road safety campaign based around a 21st century road safety mascot created by Aardman Animations with the aim of putting an end to child road accidents.
In 2012 a total of 6,999 child pedestrians under the age of 16 were injured on British roads. Sadly, 20 of these lost their lives and a further 13 child cyclists died and 2,185 were injured in accidents. Roads are significantly safer than they were 30 years ago, however a total of 190,689s children under the age of 16 were killed or seriously injured on British roads during the period 1983 to 2012.
Copyright © Press Association 2014