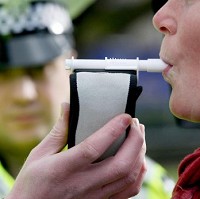 Police in the Thames Valley area caught what could be the country's youngest ever drink-driver - a child aged just 11 - newly-released records reveal.
A number of 12-year-olds have also been caught - not only behind the wheel - but while above the legal alcohol limit, in Manchester and Scotland over the last few years.
The shocking statistics show an average of around 1,000 people under the age of 18 have been convicted of drink-driving each year since 2008.
All 43 police forces that responded to Freedom of Information Act requests said they had caught people aged 17 and under drink-driving over the six-year period.
The under-age drink-driving hotspots appear to be Scotland and Greater Manchester, where 718 and 409 under-18s respectively have been apprehended since 2008.
In Hampshire, 276 people under 18 have been caught drink-driving since 2008, with 241 offenders apprehended in Devon and Cornwall, and 160 in Sussex.
The figures, obtained by in-car camera provider Nextbase, show that although the total number of under-age offenders is falling each year the problem has increased in some police areas; including North and South Yorkshire, Kent, South Wales, Cambridgeshire, Cheshire, West Mercia, Northumbria, Staffordshire and Thames Valley.
Copyright Press Association 2014