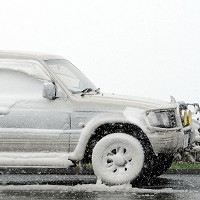 Statistics have shown that even during the recent mild winter, temperatures dropped below seven degrees Celsius at key commuting times on 147 different days from October 1 2011 to March 31.
The Met Office statistics looked at temperatures in 10 UK cities from 7am to 9am and 4pm to 6pm.
Motorists also seem to be looking to reduce their chances of winter breakdowns , as ATS Euromaster revealed it had received more than £10 million worth of vehicle cold weather tyre stocks for next winter.
Cold weather tyres are designed to considerably improve grip, handling and cornering, while also reducing braking distances.
Group sales director at ATS Euromaster, Peter Fairlie, said: "Although we didn't see a great deal of snow during this period, these statistics highlight that cold weather tyres are still a valuable safety feature worth having, even during a mild UK winter."
Copyright Press Association 2012