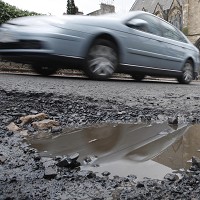 A massive £10.5 billion would need to be spent to fully repair the deteriorating roads of England and Wales, according to new research.
A survey of councils by the Asphalt Industry Alliance (AIA) found that between them they filled in 29% more potholes last year than they managed in 2011, more than two million in total and it cost them £133 million to do it.
The report also discovered that incidents involving "crumbling roads" led to breakdowns and accidents, with £32 million being awarded in compensation claims, up by a half on 2011.
A further £13 million was spent on processing the claims.
Severe rainfall in 2012 was blamed for much of the damage to the roads and the survey revealed that local authorities, which oversee 95% of them across the country, spent £338 million to bring them back into good condition at a time when they faced reduced budgets of around £829 million.
The AIA said the poor state of the country's roads had become a crisis and a fifth of them would only last for a maximum of five more years.
Copyright Press Association 2013