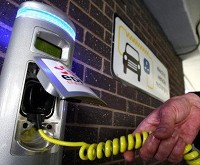 If targets are met there could be 1.7 million electric cars on UK roads by 2020, as part of moves to slash the country's carbon emissions at a much quicker rate.
The Government's climate change committee also said ministers would have to consider road pricing, perhaps in the form of tolls, as part of efforts to tackle rising emissions from transport.
It even suggested "eco-driving" tips, such as not braking suddenly and sticking to the 70mph speed limit on motorways, should be taught as part of driving lessons.
In the past five years, greenhouse gas emissions have been falling at a rate of less than 1% a year, with the most significant pollutant, carbon dioxide, only dropping by 0.5% annually.
The committee said the Government also needs to part fund infrastructure to allow people to charge up their electric cars when they need to, provide financial incentives to encourage people to buy "green" cars and consider road pricing to encourage more use of public transport.
There are currently about 200 electric cars on UK roads.
Other measures which are planned to help tackle global warming include more nuclear power stations and thousands of wind turbines, as well as improved efficiency in the home with better insulation and new energy-efficient boilers.
Copyright © Press Association 2009