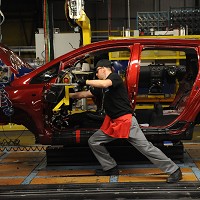 A new car rolled off the assembly line in the UK every 20 seconds in 2014 - a seven-year high figure.
The news was welcomed by both Mike Hawes, chief executive of the Society of Motor Manufacturers and Traders (SMMT), and Business Secretary Vince Cable, who said the UK automotive industry is "thriving".
More than 1.5 million cars were built in the UK in 2014, with 108,000 vehicles being manufactured in December to round off the year with a decade-high monthly figure.
The SMMT says the 2014 total figure was 1.2% up on 2013, representing a "very successful year".
Mr Hawes claims the increase is even more impressive in the context of challenges such as slower-than-expected European Union economic recovery and weakness in some global markets.
According to Mr Cable, the production figures are reflective of the strength of car manufacturing in the UK, a sector being helped by the coalition government's industrial strategy.
Copyright Press Association 2015