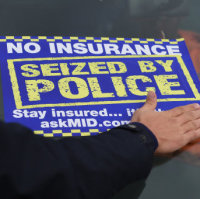 Almost one in five drivers risks being prosecuted and possessing invalid insurance by not being honest with their insurer, according to RAC Insurance .
Its report finds that 18% of motorists would not pass on details of any new motoring penalty points to their car insurance firms.
Assuming the poll is representative of the whole country, this could mean that almost seven million motorists are placing themselves at risk.
But the RAC says it is a false economy for drivers to try to keep their premiums low by not updating their details with insurance firms.
RAC Insurance also finds that one in four drivers polled who have existing penalty points have not told firms when they got them.
This effectively implies that more than 700,000 drivers could be getting behind the wheel with no valid vehicle cover.
Mark Godfrey, insurance director for the RAC, says the DVLA's switch to new digital records means that drivers who fail to disclose their penalty points are more likely to be caught.
And the penalties for being caught could get even worse if drivers without valid insurance have a prang.
More penalty points, a fine and driving disqualification could follow. They could even have their car seized and destroyed.
Not disclosing new details can also have a knock-on effect with other insurance providers less likely to offer a policy to offenders.
RAC Insurance finds that only around 13% of business drivers plan on telling their bosses about future penalty points.
Mr Godfrey said: "Our research points to one of two likely scenarios: either motorists are simply forgetting to inform the relevant authorities when they receive points, or they are intentionally not telling them in order to keep their insurance premium lower.
In either case, the result is hundreds of thousands of drivers on our roads who are effectively uninsured by default.
"This could have very serious, and indeed costly implications should they be involved in an accident, and could cause no end of problems should they need to make an insurance claim themselves."
Copyright Press Association 2016. Motoring News articles do not reflect the RAC's views unless clearly stated.