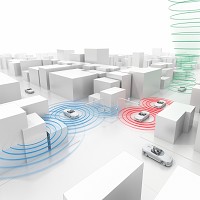 Motorists can look forward to fewer traffic jams and easier parking by 2020 - thanks to talking cars.
As many as one in five of them will have the ability to converse by then, according to Juniper Research.
The digital, online and mobile market research expert predicts such motors will inform a main computer of their whereabouts. Some of these may even have the capacity to communicate with fellow vehicles.
The report follows earlier studies from General Motors (GM) which forecast the advent of the talking car by as early as next year.
Juniper's latest study shows that mushrooming smartphone usage is fast-tracking such technology worldwide with China, the US and India leading the market.
So those of you buying a car by the end of this decade could increasingly find the choice of buying connected models. Such smart vehicles are also being fast-tracked due to the need to combat traffic congestion.
The study claims that such intelligent motors will thrive in so-called "smart cities" - where drivers will benefit from central computers knowing each car's location and final destination.
This will help them to plan to prevent traffic jams, which cost the UK's economy 10-figure sums every year in delays. Such technology could also bring massive savings to the world's economy.
Such a scheme is expected to begin with business van fleets, as well as utility vehicles, before spreading to private cars too.
In addition, smart cities could make parking nightmares a thing of the past. This is because they could better direct motorists to their nearest available parking bay at their end destination.
They could also also ensure that parking bays are fully utilised to lessen car parking pressure.
GM's earlier study predicted that science-fiction could become science-fact by some time next summer. This is when its new Cadillac will be able to talk to other models and almost drive themselves at motorway and A-road speeds.
GM's optional Super Cruise semi-autonomous technology will give buyers the chance to be in on the smartcar revolution.
The vehicles would be fitted with car-to-car transmitters and receivers.
Copyright Press Association 2015