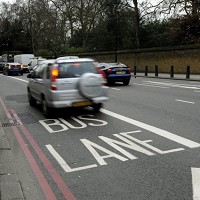 Under a quarter (24%) of drivers win their appeals against council bus lane fine enforcement in Scotland, a new study shows.
The Scottish Parking Appeals Service (SPAS) figures for 2014/15 suggest local authorities have narrowed potential avenues of appeal.
Glasgow and Edinburgh saw bus lane cameras fitted four Aprils ago, with Aberdeen following suit in the spring of 2013.
The new statistics come five months after it was revealed that bus lane tickets across the UK had exceeded the £1 million mark for the first time .
Back then, the RAC claimed that the sharp rise in fines indicates that the current system is "broken". Successful bus lane networks are those which are clearly understood, rather than ones generating 1 million fines.
The latest numbers partly endorse July's study which showed that Glasgow is the most prolific place for bus lane tickets with 131,238. They find that Scotland's biggest city has had the greatest amount of appeals, amounting to nearly 1,000 over the first three years of the scheme.
In 2014/15 it received 325 appeals, in 2013/14 it had 518 and in 2012/13 155.
Edinburgh received just 122 appeals over 2014/15, but its council is better at defending them than any other Scottish authority. Only around one in eight (12%) drivers win a bus lane enforcement appeal against Edinburgh, compared to Aberdeen's 42% and Glasgow's 28%.
In 2013/14 nearly half (48%) of drivers won their appeals against the Edinburgh local authority with a third winning their cases against Glasgow.
Lesley Hinds, the Scottish capital's transport convenor says that such bus lane enforcement is key to the city's transport moving smoothly.
Hinds says that free-flowing buses in rush-hour incentivises people to travel on more environmentally-friendly public transport, rather than using their own cars.
Local authorities are also getting marginally better at defending their parking fines, SPAS finds. Only a third (33%) of drivers won their appeals over the past financial year in contrast to the 35% over 2012/13 and 2013/14.
Edinburgh (403) and Glasgow (509) made up around 70% of the country's 1,310 parking appeals in 2014/15.
SPAS is recognised as the country's last-resort bus lane and parking independent arbitrator.
Copyright Press Association 2015. Motoring News articles do not reflect the RAC's views unless clearly stated.