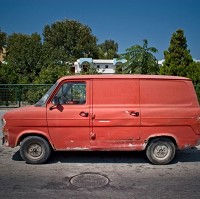 The country's population of ageing vans has exceeded an unprecedented one million, a new study has found.
It means that almost a third of vans on Britain's roads are now aged at least 10 years.
LDF's report pins the blame on difficulties accessing traditional lending methods, and continued economic uncertainty.
The finance provider said that such delays in replenishing fleets could negatively impact on businesses' emission footprints and image.
Only last year, lending difficulties were highlighted in a Mercedes-Benz Vans poll .
It found that 58% of van drivers are turned down by banks, who argue that small business lending has become a less safe option.
Vans aged 10 years or more now represent 31% of the entire functional van population, the new LDF report found.
This compares with just over a fifth (22%) - or 690,000 such vehicles - only eight years ago.
LDF managing director Peter Alderson fears that many small firms are pushing older commercial fleet vans to their "absolute limit".
Several of these might regularly have outlasted their useful economic lifespan, he said.
Mr Alderson claimed that older vans can create problems such as reduced efficiency and increased repair bills.
Van fleet companies also have considerations such as their potential harm to the environment and a "very substantial" impact upon a firm's image when using "dated", "tired" vans, he added.
Only last December, LDF revealed that online deliveries had sparked a marked hike in lorry and van investment.
Copyright Press Association 2015