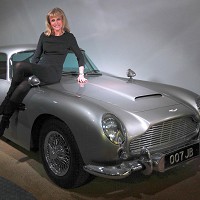 As the latest 007 film Skyfall hits UK cinemas, James Bond's Aston Martin DB5 driven by Sean Connery in Goldfinger has been chosen as the nation's favourite movie car.
A quarter of the drivers polled chose the Bond classic as their favourite in the survey.
The top choice left the second and third place winners in the dust - Marty McFly's DeLorean from Back to the Future was voted second and Steve McQueen's Mustang 390 GT from Bullitt was third.
What was the favourite car from TV? Morse's elegant Mark 2 Jaguar was voted the favourite television automobile, with the Pontiac Trans Am, aka KITT from Knight Rider, the Ford Gran Torino from Starsky and Hutch and General Lee from The Dukes of Hazzard pulling up the rear.
Bond's Aston Martin DB5 that was first seen in 1965 in Goldfinger was later auctioned off for £2.6m.
Since then the car most closely associated with Bond has been in five more movies-Thunderball, Golden Eye, Tomorrow Never Dies, Casino Royale and Quantum of Solace.
Different Aston Martin models have also appeared in On Her Majesty's Secret Service, The Living Daylights and Die Another Day.
Nearly 80% of the drivers surveyed said that a car's appeal was enhanced if it appeared in a cool film, and a third said that watching James Bond drive an Aston Martin was reason enough for them to want to own an Aston Martin.
More than one in 50 male motorists have even gone so far as to buy a car they have seen in a movie - along with the relevant car insurance of course.
Copyright Press Association 2012