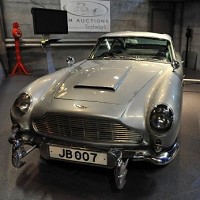 James Bond would owe £400,000 in company car tax if the Treasury could prove the fictional British icon had used his secret service cars for personal use.
Chartered accountants Nyman Libson Paul studied the values of the cars at the time and the laws of the respective eras to ascertain what 007's past and present company car tax liability would be.
They discovered the secret agent's car tax benefit would be £832,000, but, as a 50% higher rate taxpayer, Bond would have fork out a whopping £416,000 before finding a firm to provide a car insurance quote.
Experts said 007's latest tax bill had shot through the roof following the £2.6 million sale of Bond's Aston Martin DB5 in 2010, while the figure for his Aston Martin DBS, as seen in Quantum of Solace, cost the spy £11,200.
The firm said the secret agent's Lotus Elise, as used in The Spy Who Loved Me, would have been just £315 when company car tax was first introduced in 1977.
"In the latest film, it's not clear from the plot if Bond now owns the DB5 or it's a company car," said Dave Morrison, a partner at Nyman Libson Paul.
"If it is a company car, Bond has a good case for arguing that he only uses it for work and would therefore not have to pay any tax on it as there would be no personal benefit."
Copyright Press Association 2012