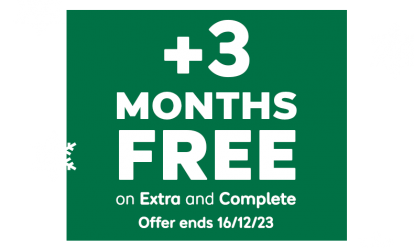 With 12 months of cover, new customers get an extra 3 months for free*.
*Added after 12 months, excludes Basic cover. New customers only. Ends 16/12/23, 7am.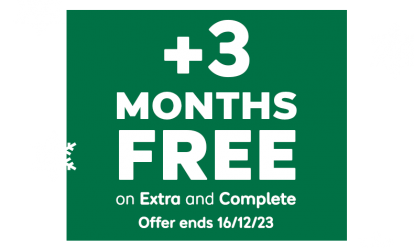 By Jonathan Crouch
Introduction
If you're seeking a spaciously compact, prestigiously-badged premium five-door hatchback from the 2017-2020 period, then you're probably thinking diesel power and German badgework. Here's a different way to go, this improved late-production version of Lexus's CT200h petrol/electric hybrid, announced for the 2018 model year to prolong this design's life in our market. Earlier versions of this car needed a little perfecting but in this form, it became a surprisingly credible choice for those who saw overall running costs and exemplary refinement amongst their key priorities. Plus as it was in its earlier forms, the CT's classy to own and kind to the environment. In short, it's still got plenty to offer.
Models
Hatchback - 1.8 petrol/electric hybrid
History
Looking for a premium-badged compact hatch from the 2017-2020 period? If so, you may be looking for an alternative to smoky diesel power. Here's an interesting one, the late-production version of the Lexus CT200h petrol/electric hybrid.
If you've recognised that fuelling from the black pump isn't an especially environmental option, you might think your choices are pretty limited in the posh part of the family hatchback sector from this time, when models like the BMW 1 Series, the Mercedes A-Class and the Audi A3 dominated. A car of this sort with conventional petrol power may not be efficient enough for you. A petrol/electric plug-in hybrid model from this period could well be too pricey. And an all-electric contender would restrict your operating range. All of which ought to leave a useful niche in your thinking for this little Lexus.
It was based on non-Plug-in petrol/electric technology taken straight from an old third generation Toyota Prius. And because the development costs of that technology had by 2017 long been accounted for by millions of Prius sales, this CT200h could offer lots of equipment and lovely Lexus craftsmanship, yet still sell at prices comparable to more conventional diesel rivals. The CT will be quieter, run on cheaper fuel and be less expensive to service too. You'd think that would create quite a tempting proposition, but the reality is that relatively few buyers in this segment even consider this Lexus when sizing up their options.
Why? Well it may be partly because of early press reports at this model's original launch back in 2011. These criticised its rather over-firm ride and thrashy CVT auto gearbox, but subsequently neglected to mention that a package of improvements introduced in 2014 did improve things in both these areas. This car's lack of market penetration was probably also down to the fact that by 2017, it had been around for such a long period, during which time all kinds of newer rivals had distracted attention away from its rather unusual proposition. Hence the need for a further CT200h update in late 2017, the one which brought us the car we're going to look at here, with its smarter look, upgraded infotainment and stronger standards of safety. It wasn't enough to revitalise this model's prospects and it was discontinued in 2020.
What You Get
It is perhaps appropriate for a car that offers something different to look a little different. That was always Lexus' perspective when discussion turned to the quirky design of earlier versions of this first generation CT200h. The problem for the brand though, is that buyers in the premium segment are a notoriously conservative bunch - hence the need for the minor aesthetic changes made for the 2018 model year version of this car, all aimed at offering a much stronger visual link to pricier, more established offerings in the Lexus line-up.
The main aesthetic updates with this revised model featured at the front, where the distinctive 'spindle'-style grille got a classier chrome frame and a smarter mesh pattern that flows uninterrupted from top to bottom. More noticeable though, were the changes made to the rear. The smarter, shapelier tail lamps became all-LED units, featuring turn indicators moved to their lower edges and even little aerodynamic side fins.
Once inside, you'll be reminded of the fact that Lexus does interiors exceptionally well, this one still being good enough to embarrass some direct German competitors. As for changes made to this revised model, well the main one was something only fitted to plusher variants - a larger 10.3-inch centre-dash infotainment screen that features as part of the 'Lexus Premium Navigation' package. And in the rear? Well, if you're tempted to complain about the amount of space on offer in the back, then you clearly haven't sat in the back of a rival BMW 1 Series, Mercedes A-Class or Audi A3 from this period. Though it suffers from a high waistline which restricts the airiness of the cabin somewhat, this Lexus offers slightly more passenger space than any of these cars, with comfortable room for two adults (as long as they're not too tall), and space at a pinch for three thanks to the notably low centre transmission tunnel.
But we haven't yet touched upon practicality, something you'd expect to be compromised by the need to find somewhere to stow the hybrid system's rather old-tech nickel-metal-hydride battery pack. As it turns out, clever packaging of this unit between the rear wheels means that it takes up relatively little boot space. Indeed, the 375-litre luggage bay is pretty as large as you'd get in a rival Audi A3 Sportback from this time, a bit more than you'd get in a BMW 1 Series or a Mercedes' A-Class from this period and a lot more than you'd get in a Volvo's V40.
What You Pay
Please fill in the form here for an exact up-to-date information.
What to Look For
We really struggled to find too many dis-satisfied Lexus CT owners. Not that we expected to find many. The brand has an enviable reputation for reliability and dealer service and that appears to have been continued here. Of the issues that did occur, these were the most common ones. First, look out for the issue of loud braking noise, which happens at speeds of below 15mph - though can occur at higher speeds. This will materialise as a screeching or ticking sound. And it's caused by failing brake actuators. The second problem we've come across is very high oil consumption, thanks to the design of the 2ZR-FXE engine. Some owners have reported that they have to add 5 quarts of oil between oil changes and have experienced overheating and engine damage when this hasn't been done.
Another widely reported issue is the lifespan of the halogen low beam headlight bulbs, which wear out too quickly. And look out for the issue of violence starting - a shuddering sensation you get when starting the car, particularly in low temperatures. There was a recall of driver and passenger side roof rail airbags, so make sure that this has been attended to. Otherwise, there's little else to report. Check for alloy wheel scuffs - and insist on a full service record.
Replacement Parts
(approx based on a 2018 CT 200h - Ex Vat) An air filter costs around £14-£19 and an oil filter costs around £6-£12. Brake pads sit in the £30 to £35 bracket for a set. Front brake pads cost in the £41-£66 bracket; it's around £25-£33 for rears. Front brake discs cost in the £31-£74 bracket; it's around £22-£57 for rears. Wiper blades cost in the £12 to £16 bracket. For a radiator, you're looking at about £118. A thermostat is in the £35-£100 bracket.
On the Road
The mechanical set-up of the CT200h wasn't altered as part of the 2018 model year changes, so it remained based around the hybrid synergy drive powertrain developed for the old third generation Toyota Prius that was launched back in 2009. This sees an old-tech nickel metal hydride battery mated to a 98bhp 1.8 VVT-i petrol engine, an 81bhp electric motor, a power control unit and a power split device. The two outputs we've mentioned are never delivered at the same time, which is why, slightly confusingly, the total power output of this little Lexus is quoted at 134bhp. That's a lot less than you'd get in a hybrid version of the next model up in Toyota's range in this period, the IS saloon - but then the running costs of this CT are potentially a lot better than you'd get with that car, officially quoted at 74.3mpg on the combined cycle and 88g/km (NEDC figures), provided you run on the smaller 16-inch wheels.
It all makes this Lexus a great company car user's choice. But are there dynamic drawbacks in choosing a CT? Certainly, the magazines will tell you of this car's rather over-firm ride and the thrashy CVT auto gearbox you have to have. Both these things are problems you'll need to make sure you can live with, but both issues were improved as part of a package of changes introduced for the 2014 model year. And neither drawback will manifest itself on the smooth highway journeys that will probably occupy owners across the majority of their mileage. It's here that the light steering becomes a boon rather than a drawback and it's here too that you can revel in the beautiful cabin and peerless refinement that apparently gets within four decibels of the kind of cabin quietness you could expect in a Rolls Royce Ghost. In this regard at least, the CT is exactly as you'd want a Lexus to be.
Overall
There was a lot to like here. Essentially, a CT200h costs no more on the used market than the Toyota Prius it's fundamentally based upon - yet offers extra quality, more equipment and the plush values of the prestigious Lexus brand. Back in 2017, we were disappointed that this car hadn't been updated with the drivetrain, gearbox and handling changes made to the more recent fourth generation Prius design. Still, by that point, it probably wasn't cost-effective for Lexus to do that so late in this MK1 CT model's production life.
Even so, this late-model CT200h continued to offer many of the things typical middle management executives wanted bound up in a properly eco-friendly package. It's one that's still arguably very much in tune with our times - and it felt a little fresher thanks to the 2018 model year changes. If you don't really care about handling dynamics and you're fed up with the default German choices in this segment from this period, what's on offer here could still make an awful lot of sense. On the balance sheet. And in your driveway.