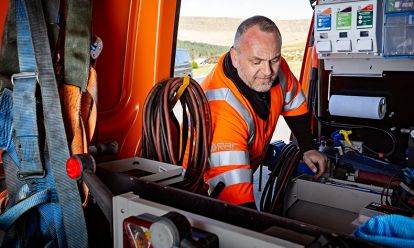 You can get covered in our half price sale from just £5.75 a month.* We're the UK's best breakdown cover provider as voted for by Auto Express drivers 2021.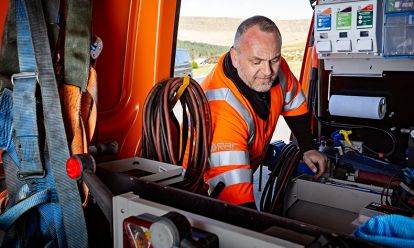 BY ANDY ENRIGHT
Introduction
There's a lot to be said for the Kia Sportage. In offering the cheapest compact 4x4, Kia would appear to have cornered the market amongst budget buyers and the Sportage is a very decent car. Unfortunately, this is a market that's notoriously badge conscious and, as Kia discovered, many customers would much rather drive a three year old Freelander than a brand spanking new Sportage. That's as maybe but if you're not too worried about your golf club kudos points, a used Sportage makes a very canny buy.
Models
Models Covered: 5dr Compact 4x4 (2.0, 2.7 petrol, 2.0 diesel [XE, XS])
History
We were given a quick sneak preview of what to expect from the Kia Sportage when sister company Hyundai brought their version of the vehicle, the Tucson, to market a few months earlier. While being the cheapest is often advantageous, there aren't often too many prizes for being second cheapest and the Tucson has struggled. The Sportage has fared a little better, and if you shop around you should be able to find the car in the specification and colour of your choice. What hasn't helped the Sportage is the fact that its predecessor was so underwhelming. Perhaps Kia should have completely rebranded what is a very capable little car.
The initial range offered buyers a choice between either 2.0-litre petrol or diesel powerplants, plus a 2.7-litre petrol V6. In early 2006, the diesel was upgraded to Euro IV-compliant status and power was upped to 138bhp. 2WD versions of the Sportage were introduced for the 2008 model year at the same time as a facelift brought a mild re-style to the front end, firmer suspension and sharper steering.
What You Get
The underpinnings of the Sportage are the same as those of Hyundai's Tucson 4x4, so with two companies to share the development costs, you'd expect a fairly decent result: so it's proved. Kia's credibility when it comes to building 4x4s was boosted enormously with the addition of the excellent Sorento and the Sportage has augmented this reputation. It's a vehicle with a very different focus to its predecessor. That car was rather undervalued in this country but sold well in many other markets on account of its rugged off-road capability. The 'Fulham Farmer' focus of 4x4s in this country ensured that the old Sportage was seen as a bit of a rough and ready Far Eastern curio that didn't have the sophistication and ride quality to cut it in a rapidly expanding market.
The MK2 Sportage set out to be a lot more user-friendly, adopting a few MPV-style practicality features. The rear seat cushion and the backrest are a case in point, adopting Kia's 'Fold and Dive' system. Whilst it may sound like a tactic taught by Argentinean football coaches, it is in fact a method of creating a spacious, square-sided and completely flat cargo area. The front passenger seat backrest can be folded flat to house extra long loads and at the back there's even a flip-up rear window which means that items can be dropped into the luggage area without having to open the tailgate. Not that opening the tailgate is overly difficult. Unlike many compact 4x4s, the Sportage is big enough to keep the spare wheel in its proper place - under the luggage bay floor - instead of mounting it on the rear tailgate. This means that the tailgate is pleasantly light to open and doesn't whistle at motorway speeds - a problem that afflicts cars with hatch mounted spares.
The cabin is styled in a broadly inoffensive manner with far more attention paid to ergonomics than its rather haphazardly styled predecessor. If only Kia could have prevented themselves adding icky plastic wood to the dashboards. The MK2 Sportage's interior waves goodbye to the acres of featureless elephant-grey plastics and instead offers a neat cluster of instruments on the centre console, mounted high so that you don't need to go fishing about at shin level to adjust the air conditioning. On the other side of the steering wheel assembly are the switches for the four-wheel drive system and the ESP stability control while the fascia itself features a metallic bezel around the main instruments.
The exterior styling is neat without offering too much in the way of signature detail. The chunky wheelarches give the car a rather over-inflated look but the overall effect is not unpleasant. It just blends into the background a little. The only change we'd suggest would be the fitment of wider wheels to fill out those chunky arches a little more convincingly.
What You Pay
Refer to Car & Driving for an exact up-to-date valuation section. Click here and we will email it to you.
What to Look For
The Sportage has been refreshingly fault-free to date, a fact reflected by Kia's excellent showing in customer satisfaction surveys. When buying, do inspect the underside for evidence of enthusiastic off-roading. The tyres should betray no symptoms of wonky tracking and the wheel arch liners and exhausts should be in tiptop condition. The interiors don't wear as well as some rivals but other than that, you should be able to buy with confidence.
Replacement Parts
(Approx - based on a Sportage 2.7 XS) Consumables for the Sportage are reasonably priced, an air filter retailing at around £11, a fuel filter costing around £21 and an oil filter £7.50. Spark plugs are £3 each and a new cam belt adds up to approximately £60.
On the Road
The 2.0-litre petrol engine represents a first step into Sportage ownership but used buyers would do better to stump up the extra for the diesel. A combined fuel economy figure nudging 40mpg is very respectable going for such a spacious vehicle and even around town the Sportage CRDi will see over 30mpg. The diesel is moderately capable off road, although anything too arduous will betray its comparative lack of wheel articulation. Even over modest obstacles, the Sportage is prone to lifting a wheel and the four-wheel drive system isn't quite clever enough to realise when one wheel is six inches off the ground and divert drive to the other wheel. Instead it uses a more rudimentary 'torque on demand' system that keeps the Sportage in front wheel drive up until that moment when the front wheels' start slipping. It then transfers a percentage of drive to the rear wheels. Unfortunately it seems a little dull witted when performing this task, allowing the car to sit spinning its front wheels impotently for a few seconds before deciding to switch to all wheel drive.
The most fun powerplant is without doubt the 2.7-litre V6 petrol, possessed as it is of a magnificent metallic yowl when it's wound up. Unfortunately you'll need to do this fairly often to make respectable progress, with the consequent effect on fuel consumption. Coupled with the standard four speed automatic transmission, you'll put the kickdown cable to good use if you want to undertake some overtaking. The ride on all models is surprisingly firm and on smooth surfaces, the Sportage tackles corners with some relish. Throw a bumpy B-road at it and the Kia is far less composed but nevertheless at this sort of money, it's a pretty polished performer.
Overall
We like Kia Sportage owners. They tend not to give two hoots about what people think of the badge on their bonnet and instead buy the car for what it can do rather than what it purports to represent. A used Sportage is an excellent way of getting a thoroughly modern compact 4x4 for less than the price of a rather tatty used Freelander. It's worth saving up a few extra pounds and going for the diesel, if only for the additional torque and easier driving style. Look out for cars that have been driven enthusiastically off road but otherwise buy with confidence.
3rd September 2010