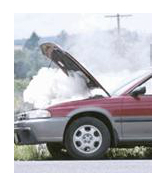 If you're planning a trip this bank holiday, we want you to enjoy the journey as well as the break. Extended weekends are the ideal time for European city-breaks, especially with the frequent ferry and channel tunnel crossings. Make sure you plan your journey to avoid getting lost or stuck in traffic jams - our RAC route planner or mobile app can help you with this. Take plenty of water and refreshments with you and if you have children, some games to help keep them amused is a good idea!
Here are our top tips to help enjoy the drive and avoid a breakdown this August bank holiday.
Car checks before you set off:
Check all wiper blades for wear or splitting, check the windscreen washer fluid level and check that the washer jets are adjusted correctly
Check oil and coolant levels following the instructions in the owners handbook
Check the condition of the Tyres, (inc. the spare) for correct pressures and legal tread depth. The current minimum legal tread depth for cars and light commercial vehicles (up to 3500 kg gvw') is 1.6mm
Check your spare wheel – make sure it's in a usable condition in case you need it and if you have locking wheel nuts fitted, make sure you have the unlock key with you
If you plan to take a caravan or trailer, check the tyre condition and make sure the lights are working
Make sure the jack and wheel brace are in correct working order. If locking wheel nuts are fitted, ensure the locking key is stored safely in the vehicle. It may be useful to practice changing the spare wheel, following instructions from your owner's handbook
Have the cooling system checked. A puddle of clear water underneath when stopped is normal for vehicles with air conditioning, but a leaking cooling system or inoperative cooling fan could cause the vehicle to overheat and cause extensive damage to the engine
Check all the exterior lights and dashboard warning lights are working correctly, including on a trailer or caravan
Take a spare set of keys with you in case you accidently lock yourself out or lose them
Never overload your vehicle or caravan beyond their designed carrying capacity
Have your car serviced regularly. Although this sounds obvious, many people don't and it really does help to prevent future car problems. Especially before long journeys, or journeys where you're likely to get stuck in traffic. This is important and can help avoid a breakdown
Weather conditions:
Take sunscreen in case you break down and have to stand outside - this is particularly important if you have travelled to some of Europe's warmer countries
Beware flooding – flash floods are common. Pack waterproofs and some warmer clothing
Do not drive through flood water, you don't know how deep it is and it can cause engine failure if the engine takes water in
We recommend that you carry these essentials in your car:
A first aid kit
A high quality torch, preferably with long life and spare batteries
A warning triangle
A high visibility vest/jacket
A fire extinguisher
A spare, empty fuel can
A light bulb kit
Additional engine oil and water (for topping up)
An up to date road map or sat navigation system
Driving abroad tips:
Driving regulations vary depending upon your destination; for example, in Germany, you cannot drink any alcohol before driving if you have held your licence for less than 2 years or are under the age of 21. For more information regarding driving rules, input your destination of choice in our Driving Abroad page to find country-specific help and advice. To enjoy your bank holiday worry-free, take the time to read through our guidance on the European Breakdown Cover pages.