It's here, the inevitable has finally happened, there's been a zombie apocalypse - why weren't we prepared?!
We are aware of the many modern-day issues motorists currently face - potholes, Parking Charge Notices, increasing LEZs, the ever-growing threat of zombies - and, as such, we do our very best to keep motorists informed and up-to-date by providing the most extensive body of driving advice around, or so we thought...
Clearly there has been an omission from that list within our extensive backlog of advice and it has become spookily apparent to us lately that this needs rectifying.
So, here at RAC Tower House (see even the name of our building sounds like something from a comic book) we have decided to pool our resources and create a complete guide on how to survive a zombie apocalypse.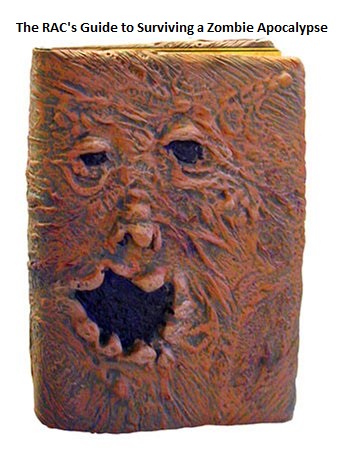 Ha! You scoff. That will never happen how ridiculous. But wait a minute, ask yourself this... What if it does?
Suddenly it all makes sense, you realise why they keep relentlessy churning out series of the Walking Dead, why they keep remaking near perfect George A. Romero movies, why they keep reviving the Resident Evil franchise - not to cash in on the stuffed rotting zombified cash cow that is the zombie genre, but actually to beat you over the head with potentially life-saving advice.
So, we thought it was about time we add our voice to the cause and do something to help guide the millions of motorists out there in the event of such a haineous crisis.
Without further adue, here is our incredibly sensible, thoroughly helpful and above all motorists-championing guide on how to survive a zombie apocalypse.
First thing's first...
We advise you begin by taking our personality quiz to find out exactly what kind of zombie-apocalypse survivalist you are.
This way, depending on the result, we can offer you specifically tailored advice to best suit your survival needs.
HYPERLINKED IMAGE OF SURVIVAL PERSONA 1 TO CORRESPONDING ANCHOR TEXT
HYPERLINKED IMAGE OF SURVIVAL PERSONA 2 TO CORRESPONDING ANCHOR TEXT
HYPERLINKED IMAGE OF SURVIVAL PERSONA 3 TO CORRESPONDING ANCHOR TEXT